Axolotl - Amigurumi pattern
When I first saw an axolotl it was in Minecraft, I thought the game just made them up. I was floored to find out they are real, and their real life counter parts are even more cute! I knew right away that they would be perfect for a crochet pattern. I create this pattern looking at images of them on the internet. In addition, I posted asking if people would be interested in the pattern for them once I had on made and come to find out people have them as pets!
This pattern has many options from the gills to the feet, making it easier for a beginner. You will love this easy amigurumi pattern for how to crochet an axolotl. This project is great for beginners and can be completed in about 3 hours. What are you waiting for?
This pattern I think turned out extremely well, if you do use this pattern please @CrochetCacheCA on social media. I would love to see the results!
---
Here is what you will need to make one yourself:
---
Two complimentary colors of Weight 4 - Medium / Worsted yarn
Crochet hook 4.5mm
Bent Yarn needle (helps with assembly
12mm safety eyes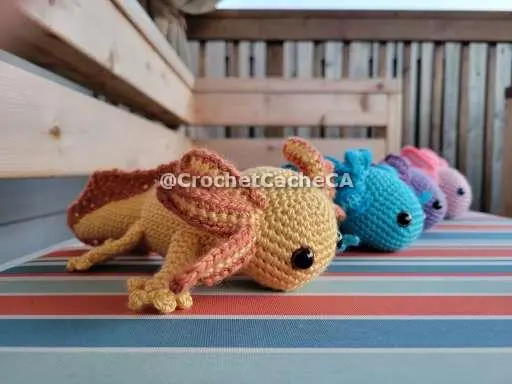 The axolotl is a gentle and friendly animal, so it is only natural that it'd be soft and cuddly as well!
---
Here are some facts about Axolotl
---
The feathery looking branches at the side of their heads are their gills.
They have both gills and lungs.
They do not undergo metamorphosis.
The can regenerate limbs & organs, but the take this ability up a notch by regenerating: jaws, spinal cords, skip, ovary and lung tissue.
Breeding rituals include dancing.
They are carnivorous.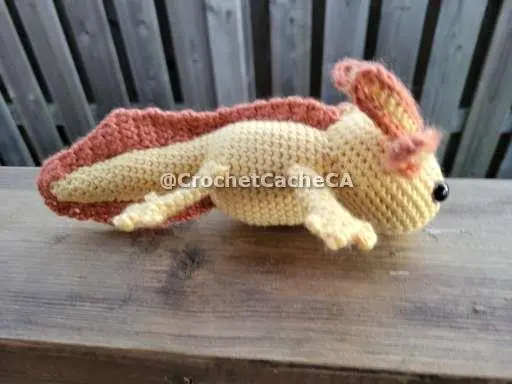 ---
Conclusion
---
If you enjoyed this crochet pattern, please come back and let us know! We love hearing from our readers. If you're looking for other fun crochet patterns, we have plenty of them on our blog. Happy crocheting!